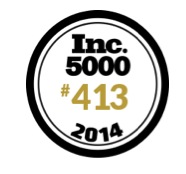 Senior representatives from key Spoken customers celebrate the company's growth and innovation
September 12, 2014 -- Spoken kicked off its annual Boost user conference with the announcement that the company has been ranked as one of the fastest-growing companies in the U.S. by Inc Magazine for the second year in a row. Spoken is a cloud provider specializing in voice services that allow large enterprise and contact centers to run their telecom infrastructure in the cloud.
The 2014 Inc. 500|5000 list ranks America's fast growing companies across 22 industries. Spoken is a two-time winner, having made the Inc 500|5000 list for the first time in 2013. With $15.5 million in revenue in 2013, Spoken has experienced a three-year growth rate of 1,149%.
"This award is a byproduct of the growth fueled by the partners and customers who are at this conference," said CEO Howard Lee at the Boost awards dinner. "Spoken thanks you all for your support, and we look forward to many more years of close partnership and growth. We believe that the future of telecommunications and voice services is in the cloud, and you are proving that to be true."
Spoken, along with its subsidiary, HyperQuality, provides scalable cloud telecommunications infrastructure for large contact centers, as well as specialized cloud-based product lines including Smart IVR for 411 directory assistance, the Spoken Smart IVR, and quality assurance. At the Boost user conference, over a dozen of Spoken's largest customers share their insights on leveraging Spoken's scalable cloud for growth.
"We chose Spoken because of the platform's exceptional ability to scale for spikes in capacity," said Martin Ingram, CIO of Arise Virtual Solutions. "The ability to easily double or even triple a client's agent workforce on a daily, weekly or monthly basis is hugely beneficial and highly efficient. When one of our Fortune 100 clients dumped 1,600 additional calls into the queue, Spoken handled it well and without incident."
Spoken's voice services comprise the Spoken Contact Center as a Service offering, a cloud infrastructure platform for both voice and multimedia services. The platform includes digital telephony, automated and human-assisted voice recognition, call recording, reporting and quality assurance product modules. Each product module is offered à la carte and can easily be integrated with existing third-party technology, including legacy ACDs or CRM applications. On the voice side, Spoken currently processes over 30 million minutes of voice calls per month, which are being directed to over 25,000 agents located in the US, Europe, and Asia.
Thanks to the scalability of its cloud infrastructure, Spoken has experienced over 100% year over year growth for the last four years. "The growth that this award reflects is driven by Spoken's deepening partnership with their existing customers and the addition of significant new customers, such as StarTek," says Jonathan Roberts, Spoken Board Member and General Partner at Ignition Partners. "This growth has also allowed Spoken to become net income positive, which as an investor, is a nice milestone to achieve."