In Seattle, the land of startups grinding out 12-hour-plus workdays, it can be difficult for management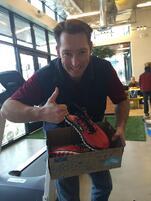 and staff alike to remember that health and fitness are just as important as innovation and delivery deadlines.
Determined not to let Spoken's rapid growth get in the way of the team's health, Spoken CEO Howard Lee included a surprise for the Spoken team at last month's 2015 annual company meeting. The team-building scavenger hunt exercise included a stop at the local Brooks Trailhead store, where every team member received a custom fitting and a new pair of Brooks running shoes.
"We're growing really quickly, and that means that everyone is working long hours and weekends," said Lee. "But our people and their health has to come first. We in the C-suite need to encourage our teams to hold walking meetings, to take the stairs and to take their vacations."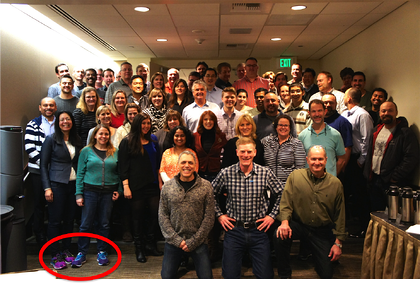 Some staff members found the shoes so comfortable that they wore them for the remainder of the meeting, even sporting them for the company photo! "I've started wearing them to run stairs in the office between meetings," said Director of Client Services Tyler Peterson.
"I fully supported the idea to give our staff new running shoes," said Spoken CFO Ty Graham. "I wear mine for my weight lifting regimen, and it's a nice reminder that Spoken supports our staff 24/7, in all aspects of their lives."
Recent reports
show that an inactive lifestyle can shorten lifespan, increase inflammation and
increase the risk of heart attack.